Easy Emoji Stuff Bag for School
Back to school seems to sneak up on us, but this Easy Emoji Stuff Bag will make your student smile on that first day. Plus you can make it on less than fifteen minutes! This project is part of the Craft Lightening series– cool crafts you can make in a jiffy.
I used emoji stickers/patches for this project, but you could do something different… just check out the fabric section of your craft store. By the way, I scored all these items at Ben Franklin Crafts and Frames in Redmond, WA.
Supplies: Tulip Fabric Spray Paint in Neon Pink, small canvas bag, vinyl letter stickers (these are 2″ big), a black tassel, and Iron On Stick On Emoji's by Joy (found in the sewing department).
Note: Put a large plastic bag on your work space. Then center the letter stickers and start spritzing with the fabric paint. You want enough paint on there to make the letters stand out.
After you've thoroughly spritzed, you'll want to let the bag dry for four hours. Then you can remove the letter stickers.
Adding the stickers/patches is fun! If you want more of a permanent hold you can iron them on, but for a project like this, just sticking them on works well.
Then add the tassel.
And there you have it, a darling bag to corral pens, pencils, lunch money… whatever. All make in less than 15 minutes (excluding drying time). Be sure to check out all the other fun back to school ideas in this Craft Lightening series from Happy Go Lucky, The Country Chic Cottage and 30 Minute Crafts.
Craft Lightening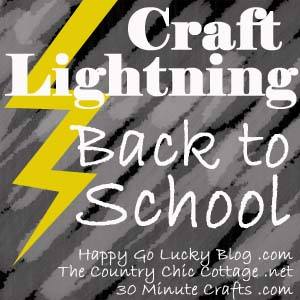 More Fun Emoji Projects