Hi Friends. I am doing a happy dance because it's my SITS Day. Simple stated, SITS is a group of about nine thousand bloggers who support each other through visiting and leaving comments. Each day they feature a different blogger, so you get to meet all sorts of lovely people.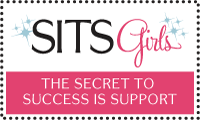 Everyone is super nice from the women that run the site to all the bloggers. If you're stopping by from SITS, welcome and I'm very happy you're here!
My name is Malia and I am a happy Mom to two cute kids and wife to my best friend. I grew up in Seattle and I am blessed that I still get to live here.

 Me circa 1975. This photo is what inspired me to use a Betsy McCall image for Yesterday on Tuesday.
 The tagline of YoT is "The art of everyday life" and that's what I believe in. I enjoy doing things for my family, friends and home that make ordinary days special. It's not about spending money on fancy supplies. To me, it's about being present in the moment and taking a thoughtful approach to the daily routine. Chores, cooking, and general home keeping are acts of love.
I believe everyone is creative and it's just a matter of discovering what makes your heart sing.

Two of my favorite things are family and finding vintage treasures. That's why I am really enjoying going through my Grandma Millicent's recipe box with my series "Millicent and Malia." It's fun and nostalgic for me to make some of her favorite dishes.
Find free printable recipe cards inspired by this sweet vintage recipe box here.

I've made all sorts of Grandma's favs including Frosted Coffee Bars. Coffee + Frosting– need I say more?
When I'm not cooking I'm probably crafting. I enjoy upcycling things and finding different uses for things like taking woven belt material and making it into bracelets.
Thank you, SITS and thanks for stopping by today. I'm looking forward to visiting all of you too.
XO