Hey guys! I am McKenzie from
Girl Loves Glam
and I am excited to be part of the Pinterest Feature Friday party! I LOVE Pinterest (I mean, who doesn't?!) and I owe a lot of the success of my blog to it! I love finding new projects and admiring other people's talent on Pinterest. You can check out my Pinterest boards
here
.
When looking over the Pinterest Master List, there were too many fabulous pinners to choose from, so I chose a random number and guess what? The person I picked was AMAZING! Her name is
Katie Dalzell
and she has 730 pins.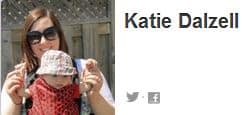 Something that I appreciate about her pins, is instead of pinning TONS of pins, her pins are all quality pins! I especially liked her board,
DIY
that is full of great DIY projects! Many of them were projects that I had never seen before.
I also loved her board,
Baby Love
that is full of awesome kid stuff!
Some of the pins that caught my eye were…
I hope you take the time to go visit all of her boards! 
~.~.~.~.~.~.~.~.~.~.~.~.~.~.~.~.~.~.~
That laundry room pegboard is absolutely ingenious! I can't wait to check out the rest of Katie's quality pins. Great feature, McKenzie! Katie, please feel free to grab a featured button.
We would love to have you! And, who knows, maybe you will be our next feature!