Owl Themed Teacher Appreciation Gift
I'm so thrilled to be part of the Craft Lightening series organized by The Chic County Cottage and 30 Minute Crafts. Mad in Crafts is also joining in on the fun as the third hostess this month. With Teacher Appreciation Week coming up, we're focusing on fun gifts for those special people who do so much for our kids!
 My daughter's teacher loves owls ("HOO" doesn't)? So I thought we'd make an owl themed gift for her (in 15 minutes or less excluding drying time of course).
Supplies: ceramic owl from Michaels (1/2 off now), Gloss Enamels Paint in Indian Turquoise, Razzle Berry, Black and White. I also used regular yellow acrylic paint for the owl's feet, painter's tape and printable tags. Plus I scored a bunch of owl themed items at Michaels in the in the two for $3 bins. You'll also want to grab scissors, a hole punch and ribbon or seam binding.
Step 1: Grab your FREE owl Owl Tags. Just save to your desktop and print!
Step 2: Tape off the part of the owl that you don't want to paint the main color (blue).
Step 3: Paint the owl the main color (blue) and let it dry.
Step 4: Remove the tape and paint the rest of the owl.
Step 5: After the paint is dry, add some fun owl-themed gifts.
Step 6: Cut out a tag,  punch a hole in the top and run seam binding or a ribbon through it.
Step 7: Tie seam binding or ribbon around the owl.
HOO loves their teacher? WE DO!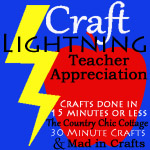 Here are some additional projects:
Click here: DIY Teacher Appreciation Gifts for more great gift ideas.